The capital of the royal Mewar, Udaipur, is beautiful and rich in a heritage tourist destination. The best tourist places are in Udaipur among all the cities of Rajasthan. Travelers love the luxury culture, architecture, scenic beauty, and soothing waters.
Udaipur, 'The Venice of the East', is a perfect place if you are looking for an exhilarating vacation. I can assure you that you can without any doubt pack your bags and come to Udaipur.
It is one of the best cities in Rajasthan. It mesmerizes you with its serenity and regal past. The people here are culturally rich and follow their regional traditions. They welcome you in the best ways possible. You will cherish every moment spent in Udaipur.
There is a lot of exploration of magnificent beauty here. I have been living here since childhood and still, there is a new experience every time. The charm keeps on rising. You can never be satisfied, no matter how long you have been enjoying the tranquility; such is the beauty of this place.
Surrounded by the Aravalli Range, the city is popularly known as the 'city of lakes' as it is surrounded by waters all over.
The lakes are soothing and give a sense of solace. When you are sitting beside a lake, you cannot be anything but cool and calm. Every lake is somehow interconnected and still is very distinct from each other. This is the beauty of the must-visit city; Udaipur.
Not only has this, but the ancient and royal architecture from the times of Kings and Queens also enhanced the rich and luxurious heritage of Udaipur. When you walk through the roads of the old city, you get an experience of the ancient inheritance. The houses, the people and their welcoming nature is symbolic of what Udaipur is known for.
The people here are very innocent and helpful. They assist tourists in every way possible. Udaipur has a vivid culture. It witnesses the celebration of each festival with the same enthusiasm. Every person living in Udaipur has a secret love for the festivals that can be seen clearly.
Top 15 best tourist places in Udaipur
| | |
| --- | --- |
| S.No. | Tourist Places to visit in Udaipur |
| 1. | The City Palace |
| 2. | The Lake Palace |
| 3. | Jag Mandir |
| 4. | Jagdish Temple |
| 5. | Fateh Sagar Lake |
| 6. | Lake Pichola |
| 7. | Jaisamand Lake |
| 8. | Doodh Talai |
| 9. | Maharana Pratap Memorial |
| 10. | Vintage Car Museum |
| 11. | Bagore Ki Haveli |
| 12. | Saheliyon Ki Bari |
| 13. | Shilpgram |
| 14. | Sajjan Garh Monsoon Palace |
| 15. | Haldighaati |
The location of Udaipur is such that lots of films also have scenes from Udaipur. Apart from this, Udaipur has also been a wedding destination for a lot of superstars from the film industry.
Udaipur was already a famous destination for travelers to visit, but this has made Udaipur much more famous.
If you are planning a vacation, you must visit the below-mentioned best tourist places in Udaipur.
1. The City Palace
The most famous and well renowned place in Udaipur, The City Palace is a royal complex situated in the middle of the city.
It is a palace that was built over 400 years ago with the contributions by many rulers of Mewar. It is standing same as it was earlier and you witness the royal culture when you visit the palace.
You get to know about the kings, the queens, how they ruled, what development they made, the ancient kingly architecture, etc.
Right from the moment you step in, you get know new things about the rulers and their era. The rituals they followed and the sacrifices they made all can be known.
There are different structures within the palace; Pols, (gateways), Amar vilas, Badi Mahal, Bhim vilas, Chitrashala, Fateh Prakash, Mor chowk, Manak Mahal, Laxmi vilas chowk, sheesh mahal, and the museum are some among those.
It is the best place for sightseeing and learning about ancient times. It is a big palace and you will need a completely dedicated visit to know about it thoroughly and enjoy being present there.
2. The Lake Palace
The iconic Lake Palace, the most beautiful among the countless best tourist places in Udaipur, will capture your attention with its calmness. Located in the middle of Lake Pichola, it was built in 1746.
It features majestic architecture and offers a serene view. Earlier known as Jag Niwas, the Lake Palace is a magnificent charm of Udaipur.
This luxurious palace has 65 rooms and 18 grand suites available for booking. It is an island hotel located in the middle of Lake Pichola. The exquisite location serves variety of cuisines and has a great hospitality.
The Taj Lake Palace has rooms with intricately carved wooden furniture and luxurious silk fabric.
Offering a garden and lake view, each room has a flat-screen TV and DVD player. You can experience utter royalty in the Taj Lake Palace.
3. Jag Mandir
A charming palace that appears to be a floating marble structure is the Jag Niwas, situated in the alluring Pichola Lake. It is a grand heritage 17th-century palace renovated as a complete destination hotel that has every facility.
Travellers from all over the world visit here and plan their stays. "The construction of the palace was started in 1551 by Maharana Amar Singh, continued by Maharana Karan Singh and finally completed by Maharana Jagat Singh I in 1652." (source: Wikipedia)
4. The Jagdish Temple
Jagdish Temple is a big tourist attraction of Udaipur. It can be sighted from a distance of 150 metres; such is the tall standing temple. It is one of the best architectures in the whole Mewar dynasty.
The temple is situated at an altitude 79 ft high. Jagdish Temple is home of Lord Vishnu and was built by Maharana Jagat Singh during his reign. You must visit the temple and experience the soothing aura.
5. Fateh Sagar Lake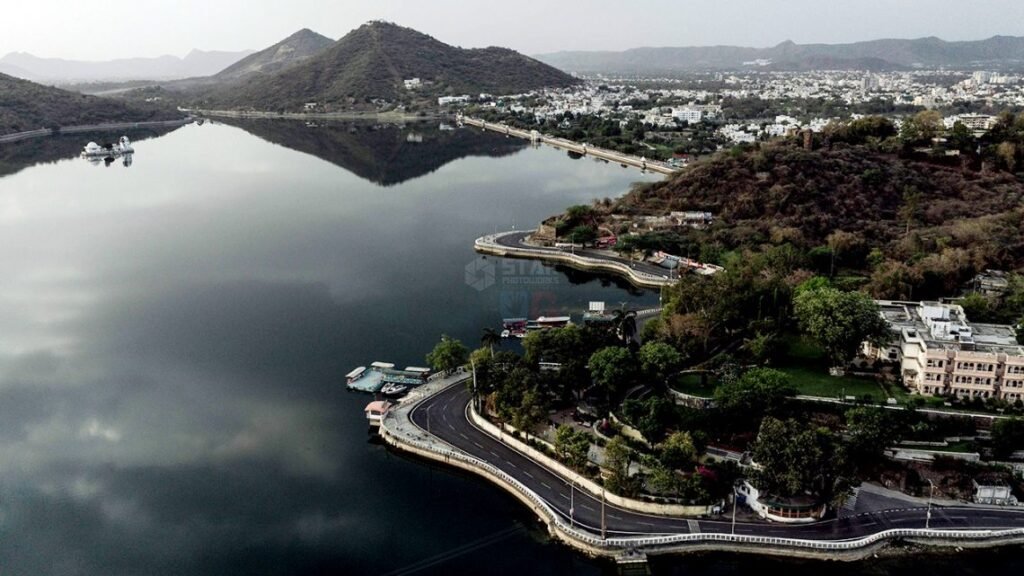 The Fateh Sagar is an artificial lake named after Maharana Fateh Singh. The lake was said to have flooded away.
But then Maharana Fateh Singh ordered to build a dam, now known as Connaught Bund. Fateh Sagar popularly called FS is the best place to relax and chill. People of Udaipur consider Fateh Sagar as a go-to place no matter what time of day.
You can get an enjoyable boat ride to the Nehru Garden in the middle of the lake. It accommodates some species of birds for attraction. It is one of the most visited best tourist places in Udaipur.
6. Lake Pichola
Udaipur is a city of lakes and each lake in the city is a beautiful attraction. Lake Pichola, named on the village Picholi. It is flanked by palaces, restaurants and ghats on its banks and islands.
Lake Pichola has four main islands namely Jag Niwas, Jag Mandir, Mohan Mandir and Arsi Vilas. The beautiful sunrise and sunset looks all the more amazing from the lake side. When in Udaipur, Lake Pichola is a must visit.
7. Jaisamand Lake
Jaisamand is a true piece of human made beauty. Wherever you see, you can find only water.
It is renowned to be the second largest artificial lake in Asia. Jaisamand lake is close to a sanctuary that inhibits various types of birds, animals and plant species.
Jaisamand Sanctuary is situated over an area of 62 square kilometeres. This lake was built by Maharana Jai Singh. It is a great place for sightseeing.
8. Doodh Talai
The doodh talai garden is the perfect example of modern architecture. This is a musical garden situated on the banks of Lake Pichola. It has beautifully carved safe slides for children.
It is one of the several best tourist places in Udaipur. You can go there and enjoy with your parents as well as children. You can sit amidst nature and relax. The garden has an eye pleasing view.
9. Maharana Pratap Memorial
Maharana Pratap is one of the greatest warriors of all time. He is known for his valour and ruled Udaipur for 27 years.
Maharana Pratap had a horse named Chetak who helped him win many battles. During their last battle, Chetak sacrificed his life to save Pratap's life.
He fought the famous battle of Haldighati and this memorial is built to honour his bravery. Situated on the Moti Magri, it overlooks the beauty of Fateh Sagar.
10. Vintage Car Museum
The grandeur experienced and exhibited by the royal families of Udaipur. As an admirer of royalty, it is always fascinating to cherish such luxury.
The vintage and classic car museum showcases a variety of luxury, unique and antique cars owned by the kings and other people from royalty. It is located on the Gulab Bagh Road.
11. Bagore Ki Haveli
Bagore Ki Haveli stands magnificently on the banks of Lake Pichola at the corner of Gangaur Ghat and is a must-visit place.
It is an ancient palace built by Shri Amarchand Badwa who served as a Prime Minister of Mewar Kingdom.
The haveli was used by the government to house government employees post-independence. The haveli was restored using traditional materials so that its architecture is not damaged.
12. Saheliyon Ki Bari
Saheliyon Ki Bari is a marvellous human creation that inhibits beauty of nature and solace.
Women literally had no place to o during the early times. This place was built specially for women by a man.
Saheliyon ki bari is a lush green garden with inbuilt fountains. It is must visit place in Udaipur.
13. Shilpgram
It is difficult to preserve tradition and culture in the modernizing era. However, the love for handmade crafts remains intact.
Nothing can replace crafts that are made by hand. The hard work and efforts that an artisan puts into designing are not comparable.
Shilpgram is host to the talent of every such artisan who is skilled in craftsmanship and looks for a platform to showcase his or her talent.
Shilpgram, the best tourist place in Udaipur, is a festival that is held during December every year. It is located 3km away from the city surrounded by the Aravalli Ranges.
14. Sajjan Garh Monsoon Palace
One among the many best tourist places in Udaipur, Sajjan Garh fort and monsoon palace is yet another place that steals your attention.
Situated on the Aravalli Hilltop, it is a beautiful palace that offers scenic beauty. The palace has a serene aura as it is built with white marble. It was laid by Maharana Sajjan Singh.
The palace was planned to be of 9 storeys, but due to premature death of the king, the plan dropped. It was further completed by his successor, Maharana Fateh Singh.
The fort was used by the kings as a hunting lodge as well as to watch the monsoon. You can visit the palace during any time of the year; it is always beautiful to watch.
15. Haldighaati
We are all surrounded by history that speaks about the valour of the ancient kings and brave people who have won battles to set a mark.
Every aspect of Udaipur recites something about such brave people, one such place is Haldighaati. It was the place where one of the fiercest battles in the history of India was fought, the battle between Maharana Pratap and Mughal emperor Akbar.
Udaipur is rich in Rajput heritage. Haldighaati is one such place. It is situated on the Aravalli ranges, 40 km away from the central Udaipur. The soil found here is yellow coloured that is also the colour of turmeric (haldi), hence the name, Haldighaati.
All the above mentioned places make Udaipur one among the best holiday destination. Everyone must at least once in their lives visit Udaipur and enjoy a stay here.